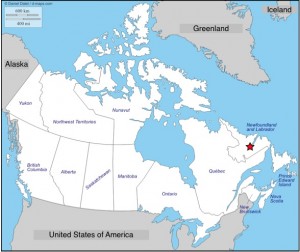 The province of Newfoundland and Labrador is the easternmost province of Canada. Labrador is approximately the same size as the state of Arizona. Labrador contains around 30,000 people.
Labrador has a vast and varied topography. With thick forest and barren tundra, countless lakes and rivers, mountains and glaciers, quaint fishing villages and a military base, Labrador contains a little bit of everything.
Innu, Inuit, Newfies, and other people from around Canada are the most prominent people groups. Because of the military base, there is occasionally a  small group of British, Germans, and Italians stationed in Goose Bay.
Labrador has a subarctic climate. In central Labrador, the average summer temperatures are in the 70s, but the winter temperatures get as low as -30 to -40ºF. The average snowfall is 15 feet. It can snow at any time during the year, but typically it will snow from late September through April.
Labrador City and Wabush are two large mining towns that do not have a missionary. There are several thousand Innu and Inuit, but there is no one taking them the Gospel. There are over 20 small fishing villages scattered up and down the rugged coastline, but no Bible-preaching churches.
We are working in the largest town, Happy Valley Goose Bay. We joined our co-workers, Darren and Amanda Dinsmore, in Labrador in May 2016. They moved here three years ago, and it is a blessing to work together with them at Happy Valley Baptist Church.
Many people, when faced with the difficulties of life, turn to drunkenness, drugs, and even to suicide. They don't have the solutions for their problems. The false religions don't have the answers. Labrador is a remote, obscure, spiritually dark corner of Canada with relatively few people compared to the great cities of Canada. But the people of Labrador cannot be ignored! Too long they have waited for the light of God's Word. Too long they have waited for someone to tell them about the truth of the Gospel and give them answers and solutions for their problems.
"The harvest truly is great, but the laborers are few: pray ye therefore the Lord of the harvest, that He would send forth laborers into His harvest."